Challenge Partners/ Aspire Hub
Learn with Forward as One is proud to be a part of Aspire Hub.
Aspire Hub - Who we are:
We are an expanding group of 21 Primary and Secondary Schools across Bolton, Bury, Tameside, and Knowsley who have formed a Challenge Partners partnership as The Aspire Hub: @TheAspire_Hub
Our Mission:
Our mission is to reduce educational inequality and improve the life chances of all children. Through collaboration, challenge, and professional development, we are working to ensure every school community can benefit from the combined wisdom of the education system.
Our Values:
Excellence
Equity
Courageous Leadership
Challenge
Collaboration
Innovation
Our Senior Partner:
Karen Bramwell NLE
The role of the Senior Partner:
A Senior Partner is the Headteacher or Executive Headteacher responsible for a hub of Network of
Excellence partner schools, and is appointed either through proven experience as head of a Teaching
School or CEO of a multi-academy trust (MAT), or as an elected representative from within the hub of
schools.
The Senior Partners play a vital role at both the national and local level leading Challenge Partners to fulfil our aims through four key areas:
Leadership of the Network of Excellence and developing the strategy
Setting the vision for the hub and developing a collaborative working culture
Sharing and creating knowledge
Ensuring the correct infrastructure is in place to support our work in the Network of Excellence.
Our Hub Manager: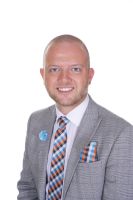 Elliot Costas-Walker SLE
The role of the Hub Manager:
The Hub Manager works closely with the Senior Partner and has a more operational role in running the hub.
The Hub Manager will support schools in the hub by:
inducting new schools into the hub
arranging and running hub meetings
conveying the latest news from the national network

supporting the schools in the hub to produce a Hub Action Plan

in some cases, attending the final meeting for each school's QA Review
following up any support requests with the school following their review.
Hub Managers also work closely with the Challenge Partners' Central Team to ensure that schools are meeting their QA Review commitment, arranging replacement reviewers if necessary and arranging school-to-school support from within the hub or nationally.
For Enquiries related to Aspire Hub, please contact Learn@fa1.uk with subject 'Aspire Hub'